Get to know Pastor Jim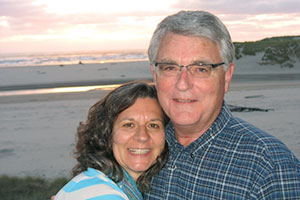 Reverend Jim and Janet Visbeek have a passion for ministry, a love for people, and heart to see others connect with Jesus Christ and his church. Prior to full time ministry, Jim was a business person in the electrical and automation industry. Jim and Janet have been married 44 years, raised 3 children and have given the gift of 7 grandchildren.
Jim attended Lynden Christian, Whatcom Community College, University of Washington, and received a Masters Degree in Christian Leadership from Trinity Western University. In 2002, Both Jim and Janet sensed the call of God to ministry, attended ACTS Seminary, graduating in 2006 together. Jim was ordained in March of 2010.
Jim has served in a number of ministries in intentional transitional leadership and as a pastor. He has received training in Biblical Counseling with the Association of Certified Biblical Counseling and transitional organizational leadership with Church Resource Ministries, New Church Specialties, Interim Pastors Ministries, and the Christian and Missionary Alliance. He serves a member of the Church Health Leadership Team of the Christian and Missionary Alliance and has been a team member in numerous churches in restoring them to health and to refocus on Jesus Christ. He has also been involved in leadership in several community groups and nonprofit organizations.
Janet attended Bellingham High School, Whatcom Community College, Trinity Western University and ACTS Seminary. She received her Masters in Chaplaincy. She has served on the board of Support Officers of Whatcom County and serves as a Support Officer and Chaplain. She is a Certified Biblical Counselor through the Association of Certified Biblical Counselors (ACBC). She is also a trained Healing Hearts leader, working with women who have suffered challenging circumstances. She loves women, family, and is passionate about marriage.
Jim loves fishing, mechanics, woodworking and sailing. Janet loves activity, crafting, sewing, and cycling. Together, Jim and Janet look forward to strengthening the families of VCF through stronger marriages, encouraging children, and leadership development of men and women who desire to be disciples of Jesus Christ.